Benefits of Well-Planned Corporate Office Interior Design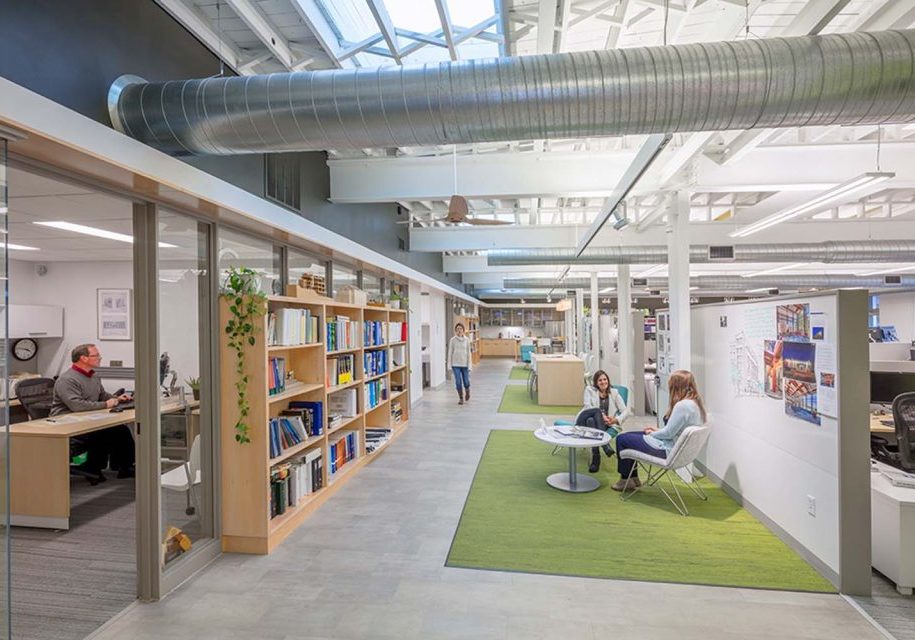 Well-Planned Corporate Office Interiors Improve Company Profitability, Productivity and Job Satisfaction
Today's corporate office interiors require much more consideration than simply ensuring you have enough office furniture – desks, chairs and conference room furniture your business requires to function. A new office space interior layout and furniture can inspire better teamwork and team productivity. Additionally, your office interior design can help you attract and retain the best employees while reducing stress and increasing corporate morale. 
Let's take a look at the benefits of a corporate office interior design that is well thought out and will contribute to the success of your company.
Increase company profitability by increasing team productivity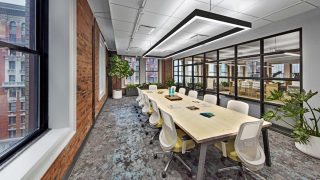 The space planning and design of an office can make or break worker productivity. Evaluate your day-to-day operations – are you able to identify which employees work together the most frequently? To maximize their ability to collaborate and complete tasks efficiently, provide them seating in the same area. Departments can be grouped together and have different color furniture for each team. This proximity and identity will allow others to quickly identify when others are available for interaction and reduce the amount of times each needs to move around the office to speak to each other, ask questions, and share tasks. Are there employees who are on the phone often and require minimal distractions? Do some employees need quiet spaces to focus on important, detail-oriented assignments? Lay out your office plan to include quieter, less distracting areas to ensure these workers have designated spaces where they can function to the peak of their abilities.
One current layout that is popular for offices whose needs may shift over time is considering a modular office design. Modules include both standard and interchangeable furniture that can be rearranged or added to when necessary, to further accommodate new employees, new teams, and maximize office space. Open shelving or half-height partitions also help to provide options for storage and organization while allowing for repositioning when office design changes.
Reduce employee stress, encourage creativity and increase corporate morale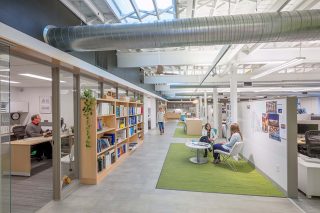 When designing office space, many companies consider moving toward an employee-centric office with interior features that feel less corporate, more relaxed and health-conscious. Some simple accessories that help to accomplish this include plants, water features, natural light (or natural light simulating lamps), air purifiers, sound dampening materials or white noise machines, and natural and textural accents.
One health-focused option would be to integrate comfortable and ergonomic activity and exercise equipment that provides the opportunity for movement and position changes during the day. These include: adjustable height sit/stand desks, sit/stand chairs, chair balls, standing mats, treadmill desks and more.
Integrated technology at employee work areas makes it easier for individuals to have power and built-in charging capabilities at their fingertips. Many of today's office furniture includes wireless charging and/or USB ports, integrated power outlets for supplemental lighting and laptop charging, as well as corresponding wire management.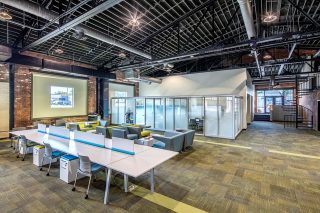 Quiet areas for employees to concentrate during work or to take a break to refresh and recharge are also considerations when modifying your office interior. Often, furniture and design that encourage relaxing – such as couches, comfortable chairs and softer lighting – give employees a place for a "time-out." Employees who work on laptops or need to read/research can transition to these alternative seating places when they need a change of scenery to promote creativity.
Attract and retain the best employees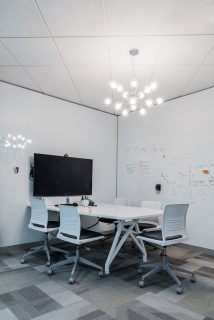 Reduce your employee turnover rate and attract the people who will join your team and make your company a success. The interior design ideas noted above are important, but you need to keep in mind that employees that come into the office are, most likely, spending more time at work than at home. Your office design should reflect the trust and value you place on the workers who enter your doors every day. Office technology is important to help any remote employees feel connected to their in-office peers. Having the right technology can also help provide the flexibility for employees to work remotely when health, family or other obligations arise – this is an invaluable benefit for any people who are raising families, caring for their parents or have other important responsibilities outside of work.
Return to Office (RTO)
As organizations look to rebuild their teams in the wake of the COVID-19 pandemic, hybrid work arrangements can play an important role in helping recreate meaningful connections and social opportunities. ROI's office furniture solutions can help companies find a way to strike a balance between employee productivity and well-being while crafting corporate office space designs that promote flexible layouts and hybrid work experiences. A hybrid workplace layout allows employees working from home to return to the office part-time while continuing to work their remaining hours at home. This enables workers to balance their work-life responsibilities while allowing employers to connect in-person with employees when necessary. Such hybrid arrangements could be just what is needed for a team's connections to remain strong and for meaningful relationships with colleagues and peers to be created as we transition into this new era of business.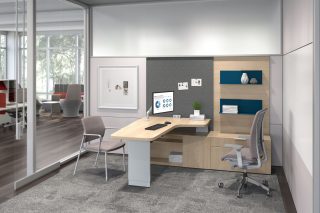 At the end of the day, office interior design is much more than choosing nice-looking desks or the most cost-efficient chairs and paying someone for furniture installation. Employee input can even be valuable in your office redesign. Thoughtful office layouts and engaging interior design may seem like unnecessary steps in developing a new corporate office space, but the time and effort will positively affect all aspects of your company, including your bottom line.