Office Furniture Installs
Getting furniture from point A to B and fully installed is complex.
The good news? We've got this! We love installations – plain and simple.
Our office furniture install team has spent 25+ years partnering with companies and organizations to deliver fast, efficient, and high-quality installs. A successful installation requires thoughtful, intentional planning along with active collaboration from the client. Interested in a fast and smooth installation for your project? Check out our tips below!
7 tips for driving a FAST and easy office furniture installs:
1.) Defined and available delivery point of contact. Our operations team will ask for a delivery point of contact from your organization. Thoughtfully consider who this person will be – he/she should be on-site and readily available via cell during the entire furniture delivery and installation time period. It's important that this point of contact has the authority and willingness to make decisions – avoiding potential time delays if any issues arise! Check to be sure the designated POC isn't planning to be out-of-office during our time on-site. If so, let us know a backup contact.
2.) Is your space ready for us? To position your project for success, a properly prepped space is key. Any old or unwanted furniture should be removed from the space prior to our crew on-site. Paint and wallpaper should be completed, and dry, a minimum of 72 hours prior to our arrival. Any workers directly adjacent to the work zone should be temporarily moved elsewhere.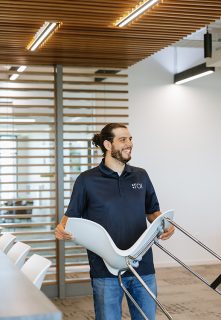 3.) Staging area – major time saver! A staging area is an empty room or space where we can place boxes, tools, and supplies. A staging area is separate from the intended installation space – and allows our office furniture install team to spread out and organize product. Depending on the size of your project, this allocation of space can shave days off your installation! 
4.) We've got BIG trucks! Our trucks range from 16' to 60' in length. We need to have a designated space to unload, as well as park during our time onsite. Putting a plan in place prior to our arrival helps the process run more smoothly. Any roads our trucks aren't allowed on, or won't fit? Give us a heads-up! 

5.) Install with a plan: delivery route. How fast we can move product to the furniture installation area is entirely dependent on the delivery path. If you're able, clearing any obstructions or potential hazards from this route allows our crews (with HEAVY boxes) to move more freely. 
6.) Changes are expected, and we're ready to pivot. We get it – projects change constantly! Keeping ROI informed of these changes enhances our ability to respond. Elevator on the fritz? Loading dock unavailable? Painter running a few days behind? Our role is to adapt and respond in real-time – just keep us in the loop! 
7.) Security: friend or foe? Notifying your security team of our presence ahead of time is immensely helpful. We prefer to embrace a team approach when it comes to engaging your security team – are there any special entry procedures? Any restricted areas we can't park or unload? We understand the disturbance our commercial furniture installation process can cause to your workplace. Our goal is to minimize our impact and swiftly restore your crew's productivity.
By collaborating closely, we're confident we can execute your installation flawlessly, ensuring a smooth transition for all involved! Contact us today to learn more about our rock-star professional furniture installers and how a great partnership will make your – and our – job a lot easier. Our team is always ready to make your next project a success – learn more about our other services, including space planning and design, creating an employee-centric office to promote workplace health and wellness, and office renovation support to help you get the job done on-time, on-budget, and stress-free.